SHRS Innovation Seminar Series
The SHRS Innovation Seminar Series is an opportunity for our community to gather together to learn about commercialization as an impactful rehabilitation research translation strategy. The open discussions included during each seminar are a networking opportunity and facilitate interdisciplinary collaboration on specific commercialization projects.
The series is co-sponsored by the School of Health and Rehabilitation Sciences and the Office of Innovation and Entrepreneurship's Innovation Institute.
December 12, 2022: "Jump Starting Your SBIR Proposal Preparation" with Phil Brooks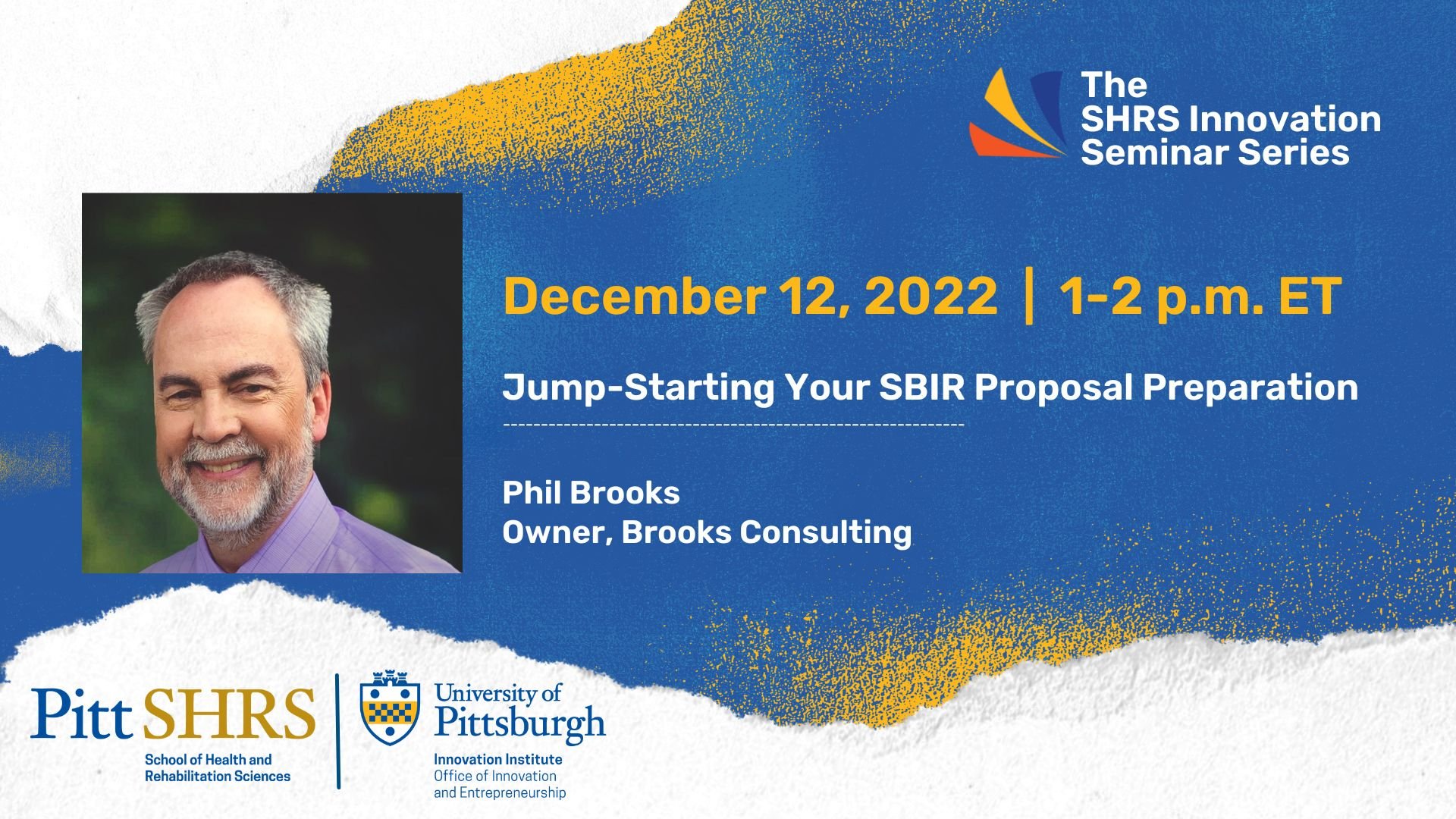 Through America's Seed Fund startups can get up to $2 million to develop deep technologies. Phil Brooks will walk you through the process and timeline, how to submit a proposal and what to expect along the way.
Phil is a Management Consultant with strong financial, economic and accounting skills. His experience is developed from 40 years of consulting through his own firm currently and previously with Big Four accounting firms and boutique consulting firms.

His company, Brooks Consulting, has worked as a grant consultant for SBIR/STTR Phase I, Phase II, Fast Track, Broad Agency Announcement, Rapid Innovation Fund, i6 SBIR supplement and Commercialization Accelerator/ Assistance Program proposals. Submitting to seven agencies (DOD, DOE, DOT, ED, EPA, NIH, NSF), their work has resulted in awards totaling almost $9 million in grants to their clients.
---
November 14, 2022: SEEDing Biomedical Innovation: Support for Small Businesses at NIH with Stephanie Fertig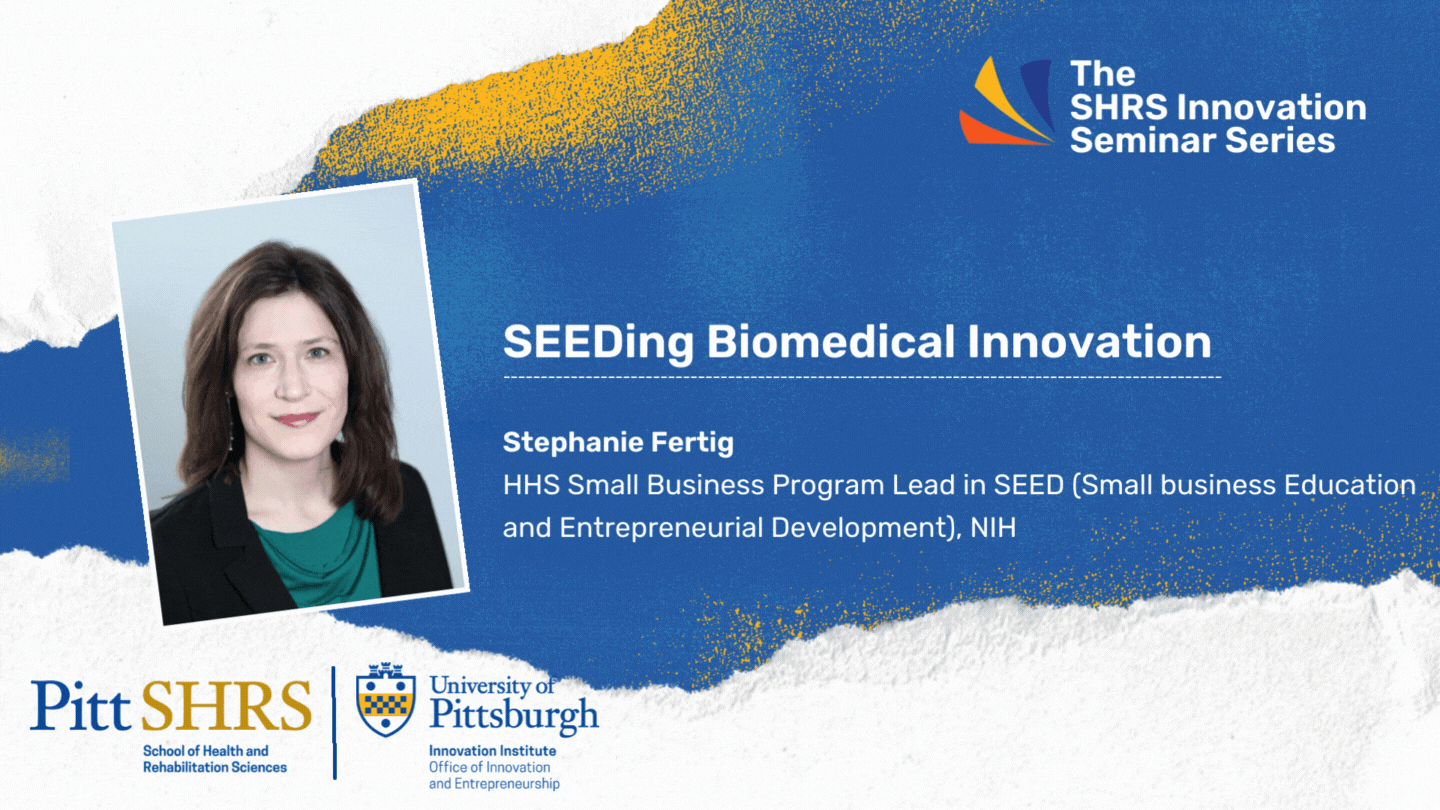 Academic innovators can access up to $1.2 billion in small business funding from the NIH's Seed Fund through the Small Business Innovation Research (SBIR) program or the Small Business Technology Transfer (STTR) program. Join us to learn how these programs give access to essential funding for startups.

Ms. Stephanie J. Fertig is the HHS Small Business Program Lead in SEED (Small business Education and Entrepreneurial Development) at the National Institutes of Health (NIH). She currently oversees the Health and Human Services (HHS) Small Business Innovation Research (SBIR) and Small Business Technology Transfer (STTR) programs, which includes the NIH SBIR and STTR programs. The HHS SBIR and STTR programs are congressionally mandated set-aside programs that provide over $1.2 billion dollars per year to small business concerns. Prior to joining SEED, she managed the SBIR and STTR Programs at the National Institute of Neurological Disorders and Stroke (NINDS). During her over 15 years at NIH she has led the development and implementation of multiple programs focused on small businesses and translational research.  Ms. Fertig has a Bachelor of Science degree in Chemistry with a major in Physics from the University of Virginia and a Master of Business Administration from the University of Maryland's Robert H. Smith School of Business.
Access .pdf of this presentation.
---
October 10, 2022: The Secret to Selling to Hospitals with Kevin Trout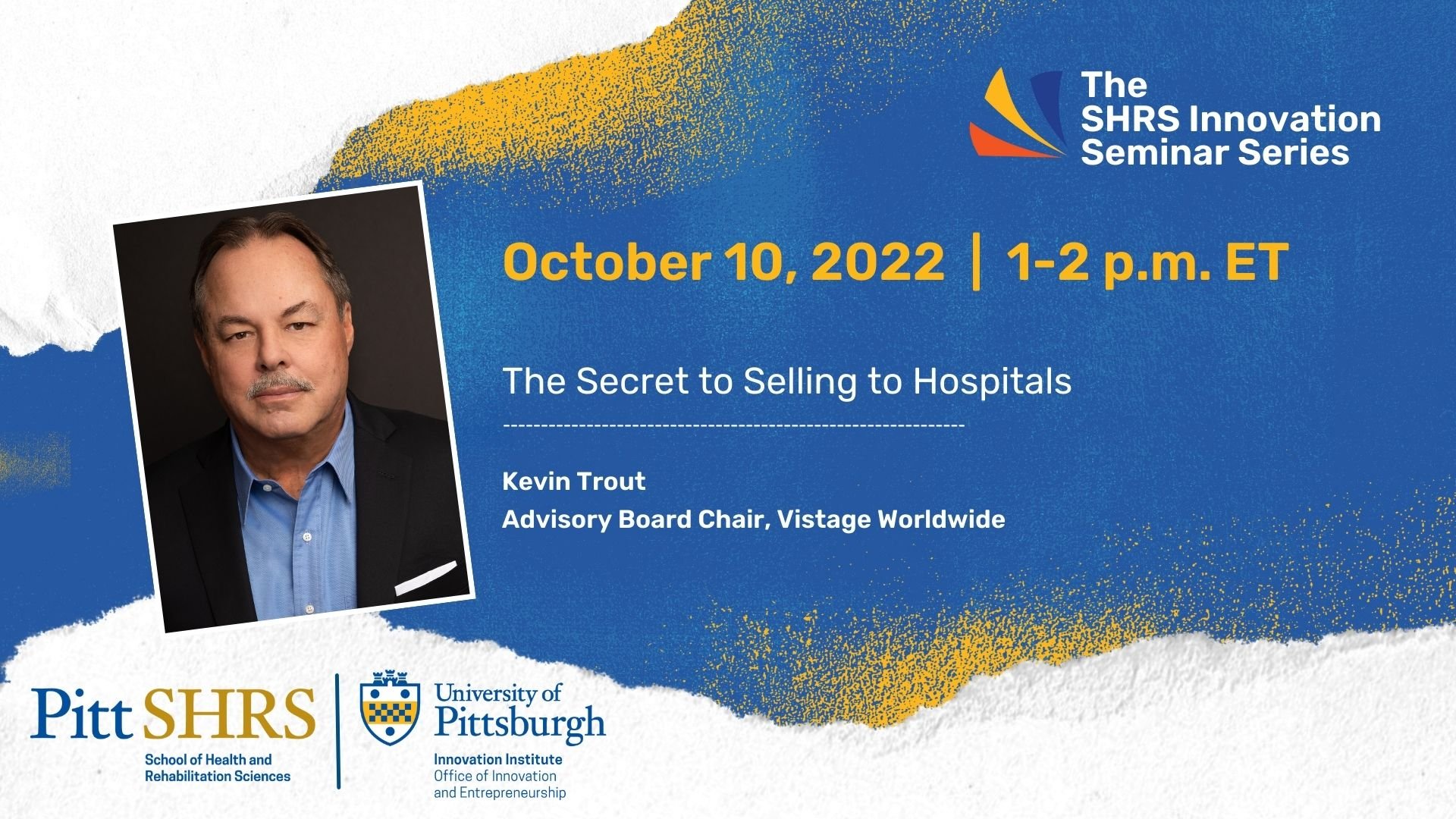 When your technology or device helps hospitals be more efficient, reduce costs, eliminate errors, or save lives, one overarching question remains: how do get in conversations with the right stakeholders at hospitals? And when you finally talk to a decision-maker, how do you eliminate potential barriers? This seminar will uncover how entrepreneurs can navigate the hospital buying process and be successful in selling to hospitals.
Kevin Trout is an experienced entrepreneur, business owner and sales professional with over 35 years of experience in the medical device industry. Kevin was the Founder/President of Grandview Medical Resources, Inc. in Pittsburgh, Pennsylvania; a specialty medical equipment distributor with an average annual growth rate of 23% per year, before selling his company in 2011.
By the time he retired in 2016, Kevin's company was conducting business with approximately 90% of the hospitals in his market (western PA and West Virginia), which included a 10 year contract with UPMC Health System.
September 12, 2022: How to Get Your Medical Device Through the FDA
- Who are the FDA? (people and organization)
- What do they do? (how a file is reviewed to get your device on the market)
- How to classify your device and what that means for your regulatory journey
- Overview of the different paths to market through FDA depending on your device classification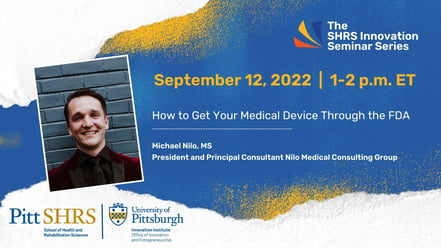 Michael Nilo is a biomedical engineer with 13+ years in the medical device industry, working at the FDA, for industry and as a consultant. He has hands-on familiarity with most functions and departments of a successful medical device company, and has provided consulting advice for verification and validation testing, quality systems, and regulatory submissions for different classes of medical devices. As a consultant, he has authored and submitted applications to FDA for Class II and III medical devices, and has extensive experience with Q-submissions, clinical trial development for medical devices, quality system regulations, and all manner of FDA interactions.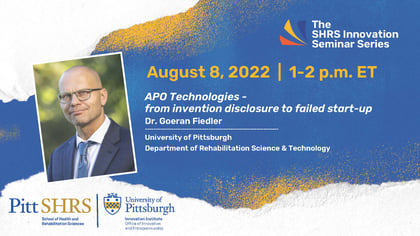 August 8, 2022, 1-2 p.M.
"APO Technologies: From Invention Disclosure to failed startup"

With Dr. Goeran Fiedler from the University of Pittsburgh Department of Rehabilitation Science and Technology
According to some statistics, 90% of startups fail. Dr. Fiedler's example, "APO Technologies" illustrates how this looks in practice; how a combination of misguided decisions, difficult environment, and simple bad luck doomed an initially promising business idea.
Topics Discussed:
The original idea

Invention disclosure and navigating the Pitt commercialization pipeline

Incubator/accelerator capital and federal funding

Executing the business plan, setbacks and stalled momentum

Running out of enthusiasm (and money)

Shutting down the (ad)venture

Lessons learned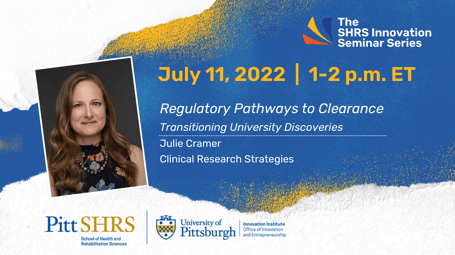 July 11, 2022, 1-2 p.M.
Regulatory Pathways to Clearance: Transitioning University Discoveries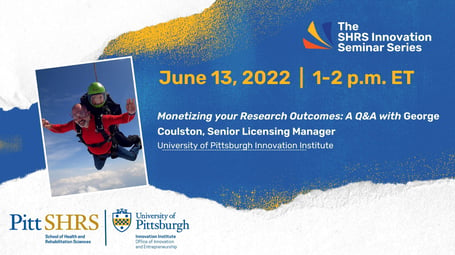 June 13, 2022, 1-2 p.m.
Monetizing your Research Outcomes: A Q&A with Pitt Senior Licensing Manager George Coulston
In this open question and answer forum with one of the University of Pittsburgh Innovation Institute's leading experts in technology transfer, George Coulston will offer his thoughts on how to secure and monetize your Pitt intellectual property while enhancing the impact of your research.
(This session was not recorded.)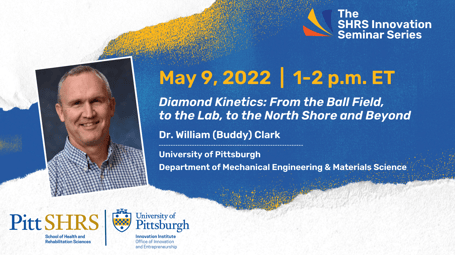 May 9, 2022, 1-2 p.m.
"Diamond Kinetics: From the Ball Field to the Lab, to the North Shore, and Beyond" with Dr. William (Buddy) Clark from the University of Pittsburgh Dept. Mechanical Engineering & Materials Science
Just ten years ago, the primary instrument for measuring sports motions on the field was the coach's eyes, which often fall short in providing useful and objective information. Diamond Kinetics was founded to fill that gap in baseball and softball with novel wearable sensing technology that, at the time, was just becoming feasible for capturing the high-speed human motions found in hitting and throwing in these games. This talk will tell the story of the company's journey from ball field to the lab, out of the university to a Pittsburgh startup, and back onto the field, transforming millions of swing and throw events each year into useful information for users.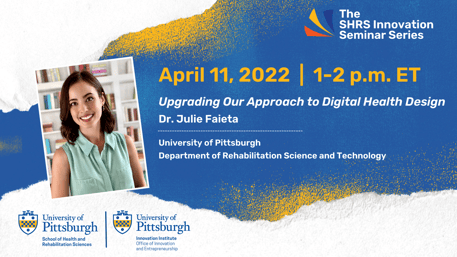 SHRS Innovation Seminar - April 2022 - Dr. Julie Faietas
April 11, 1-2 p.m.
Upgrading Our Approach to Digital Health Design with Dr. Julie Faieta from the University of Pittsburgh Dept. Rehabilitation Science and Technology. Development of Software as Medical Devices, or SaMD's, continues to outpace regulatory and clinical guidance. This presentation will offer up-to-date considerations and translational strategies for digital health design and evaluation approaches that consider consumers falling outside of the stereotypical technology user.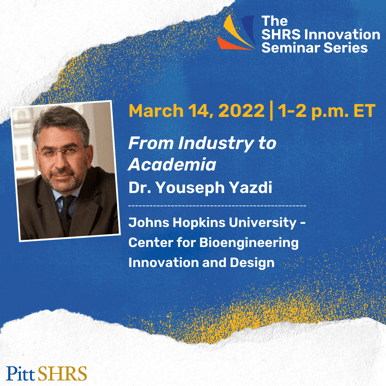 SHRS Innovation Seminar - March 2022 - Dr. Youseph Yazdi