Get in-depth exposure to federal grant funding opportunities
Learn about resources specifically available to University faculty and PA small businesses.
The Innovation Institute, the Office of Sponsored Programs and Pitt consultant, McAllister & Quinn are partnering to deliver an educational program to help inform Pitt stakeholders and local businesses of SBIR (Small Business Innovation Research)/STTR (Small Business Technology Transfer) opportunities.
SBIRs and STTRs are federally funded programs that provide grants to startups and small businesses to further develop University intellectual property for the purpose of commercialization. The primary goal of the program is to introduce the available SBIR/STTR opportunities to Pitt researchers as a source of research and development funding, as well as to help them become more familiar with the process.
Click below to view the video of the seminar: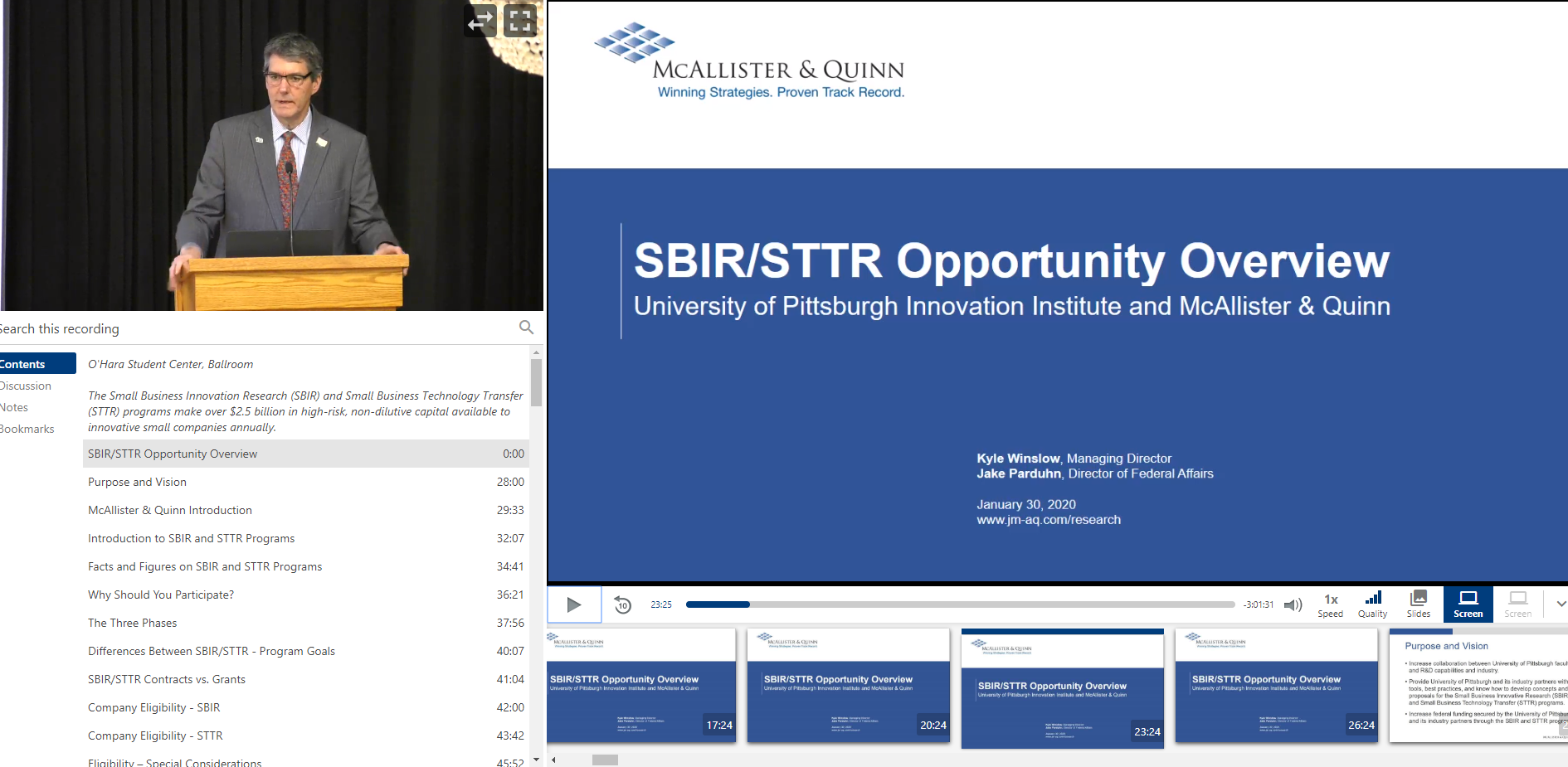 Agenda
9-9:30 a.m. Registration, Coffee, & Juice
9:30-10 a.m. Introductions & Overview of SBIR/STTR Program
10-10:30 a.m. Agency Overview
Department of Defense Overview
National Institutes of Health Overview
National Science Foundation Overview
Department of Energy Overview
10:30-10:45 a.m. Reaching out to the Agencies
Overview and Purpose
Timeline for Concept Review Next Steps
10:45-11:15 a.m. University of Pittsburgh Compliance
11:15-11:45 a.m. Partnering Resources to Effectively Leverage SBIR/STTR
11:45-12 p.m. Introduction to PA Innovation Partnership
12-12:15 McAllister & Quinn Full Proposal Support
12:15-12:30 Closing Remarks & Staying in Touch
12:30-2 Networking Lunch & One-on-One Meetings with:
McAllister & Quinn
Innovation Institute

Licensing Manager
Entrepreneur in Residence

Conflict of Interest Office
SBIR/STTR Active Pitt Spinout
CTSI
sciVelo
Institute for Entrepreneurial Excellence
McAllister & Quinn provides consulting services focusing on increasing the external funding opportunities of a college or university with the goal of providing a high return on investment. The return on investment can include a combination of budget relief, budget enhancement, new programs/partnerships, and/or greater institutional efficiencies. McAllister & Quinn on currently on retainer with the University of Pittsburgh and will provide review and input on SBIR/STTR grant proposals.