2018 Schedule
Stay tuned for updates on the 2019 schedule.

---
4 p.m. Michael G. Wells Entrepreneurial Scholars Lecture
Science Lecture Hall (3rd Floor), Alumni Hall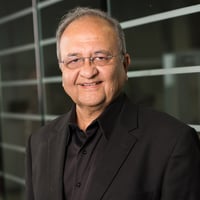 Mir Imran, chair and CEO of Rani Therapeutics and chair of Incube Ventures, will give a presentation illuminating the path to success in entrepreneurship. 2018 Upstart 50 list. Mir Imran was recently selected by the editors at the San Francisco Business Times and the Silicon Valley Business Journal, as an honoree of the Upstart 50, an annual recognition of the most dynamic, disruptive and innovative people doing business today in the San Francisco Bay Area.

Mir Imran has founded more than 20 life sciences companies and holds more than 250 patents. His company, InCube Ventures, is located in Silicon Valley and San Antonio where they have formed 20 companies over the past 25 years, creating a series of multi-billion dollar markets along the way.
---
4:45 p.m. Michael G. Wells Student Health Care Competition
Kuzneski Innovation Cup
Science Lecture Hall (3rd Floor), Alumni Hall
Celebrate with us as we award over $62,000 to the student winners of the Wells Student Healthcare Competition and the Kuzneski Innovation Cup!
---
5:00 p.m. Innovation Showcase
J.W. Connolly Ballroom, Alumni Hall
Join the University of Pittsburgh Innovation Institute for a first look at the latest Pitt-generated innovations in health care, assistive technologies, Internet of things, information technology, human performance and more.

Many of these technologies are available for licensing, and others already form the basis of local, early-stage Pitt spinoff companies.

Our specialty drink for this year's showcase is "Ginnovation" and it will consist of Ginever, Cardamom Simple Syrup, Lemon, Red Ribbon Tonic, Rosemary Lavender Bitters.
*You must be 21 or over to consume alcohol.